STREAMLINE YOUR PURCHASING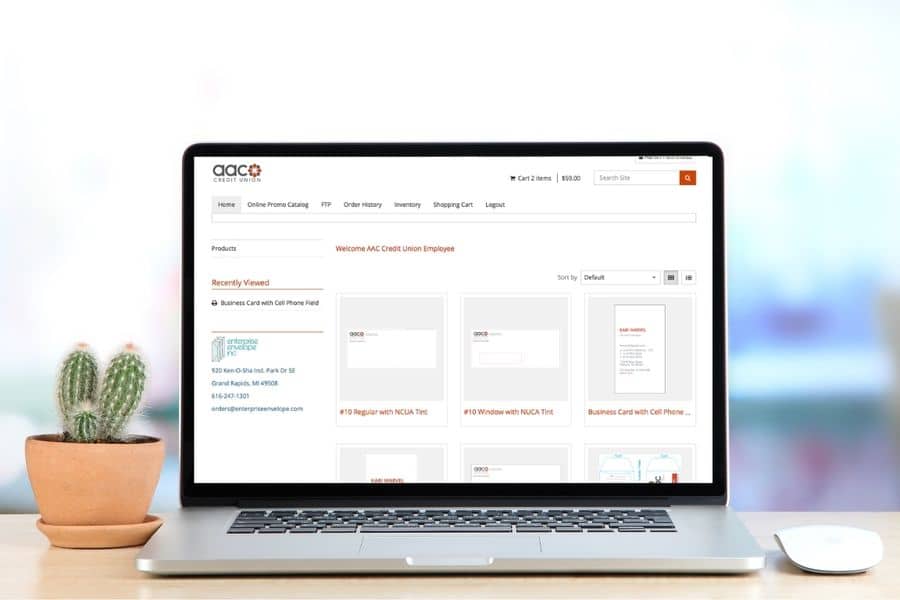 Custom Online Portals
Powerful and custom online ordering portals built by Enterprise Print Media
Gain control and visibility of your entire print marketing supply chain by centralizing to a single online hub.
Streamline Your Purchasing
By utilizing your custom-built online portal, all your branches and departments can access the same hub to place orders and track real time inventory. Shipping locations can be selected at checkout to make sure each location is getting exactly what they need and in a timely fashion.
Lock in brand standards
Funneling your print marketing through a centralized hub will guarantee only approved items are ordered and brand consistency is delivered. Eliminate departments going off-brand and eliminate multiple vendors printing their variation of your colors.
Access 24 hours a day from anywhere
The COVID-19 pandemic taught us the importance of being nimble and working remotely. With your own secure online ordering portal, you will be able to access your printed materials for orders and inventory management 24 hours a day and from anywhere with an internet connection!
Reduce Errors
Fewer human touches mean fewer chances for errors throughout your ordering process. Ordering and reordering products is a breeze and locked-in branded templates also eliminate potential design errors.
Information on Demand
Over time, your portal will amass vital data to help you make informed decisions. With in-depth order history reports and inventory tracking, you will see which items are being purchased to make better buying decisions in the future!
Instant Proofing
We wanted to solve the communication bottleneck by simplifying the ordering process for items that have ever-changing artwork. To do this, we equip your portal with customized templates. Does someone need a business card? Type information into preselected fields and a print-ready proof is generated instantly! Ordering custom business cards for every employee is now done in seconds!
Custom Solutions for You
Our online portal is completely customized to your needs. We can set up order plans requiring management approval before being released to us. We can allow different branches or employees to see only specific items pertinent to them. With so many more unique solutions like these, we can help you streamline and save by tailoring to your needs. Set up a meeting with our team today to learn more!
GET STARTED TODAY!
Let Enterprise Print Media show you the benefits of a strategic partnership with one supplier for all your print, mail, and promotional needs.